You can listen to and follow scores of my music for concert band and string orchestra at all levels by visiting my "Music" page.
Welcome to my website! Hopefully this will become a place where you can preview my music, see what's new and be a means to contact me should you want a piece commissioned for your organization or need a guest conductor for your festival.
If you're looking for a clinician, custom marching band or percussion ensemble arrangements or mentor for your composition student, this will be the place to go. I will work closely with you and your organization every step of the way to ensure a musical experience of the highest quality.
"Music produces a kind of pleasure which human nature cannot do without." - Confucius, The Book of Rites
Click on an icon to find the recording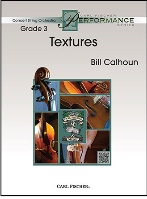 Now offering private composition lessons!